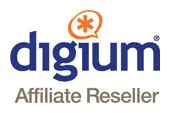 We are pleased to announce that we have been accepted as an Authorized Reseller Partner for Digium. With this acceptance, we can begin offering customers PBX solutions using the award winning Digium Switchvox IP PBX. Packed with features, the Digium Switchvox IP PBX enables customers to have an enterprise level PBX at a price point much lower than other comparable VoIP PBX systems.
"We are looking forward to offering this product to our customers, enabling them to enjoy the ease of use and functionality of the Switchvox system," said Christopher Gray, Managing Director of Graysmark Business Systems, LLC. "As a Digium Authorized Reseller, a whole new avenue of available opportunities will enable us to enhance our service offerings and better serve our customers."
About Digium
Digium®, Inc., the Asterisk® Company, created and is the innovative force behind Asterisk, the most widely used open source telephony software. Since its founding in 1999 by Mark Spencer, Digium has become the open source alternative to proprietary communication providers, with offerings that cost as much as 80 percent less. For more information about Digium, visit https://digium.com.
About Graysmark
With offices in Fishers, Indiana, USA, Graysmark Business Systems, LLC, is a leader in business consulting, systems integration, and managed services serving global companies, medium sized businesses, government agencies, and other organizations. For more information about Graysmark Business Systems, visit https://graysmark.net.